Job Details
Contract Law Attorney / Corporate - M&A Attorney / Energy and Oil & Gas Attorney in Hackensack, NJ
Archer & Greiner, P.C. | Hackensack, NJ, United States
Industry: Legal | Type: Full-Time
Posted Date: Apr 14, 2021
Experience: 3-5 Years
Practice Areas: Corporate, Energy and Oil & Gas, Contract Law, Corporate - M&A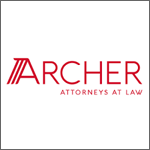 Job Description:
Corporate/Finance Transactional Attorney
The candidate should have 3-5 years of experience in corporate transactional matters which includes experience with entity formations, contract drafting, review and negotiation, commercial finance (representing both lenders and borrowers), corporate governance, merger and acquisition transactions. Experience with governmental regulation and incentives or alternative energy transactions a plus. NJ Bar or PA Bar admission required, with NY Bar and/or DE Bar a plus. Demonstrated experience and expertise within the field. Excellent writing, communication and analytical skills. D. from an accredited law school. NJ Bar or PA Bar admission required.
Apply
Thank You for Your Application
Your profile is created. Your email is your user name.
Please configure your password for future used.