Job Details
Computer Engineering Attorney / Electrical Engineering Attorney in Los Angeles, CA
Knobbe, Martens, Olson & Bear, LLP | Los Angeles, CA, United States
Industry: Legal | Type: Full-Time
Posted Date: Feb 26, 2021
Experience: 2-5 Years
Practice Areas: Intellectual Property, Intellectual Property - Patent, Intellectual Property - Patent - Hard Sciences, Electrical Engineering, Computer Engineering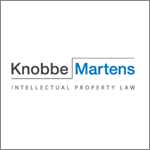 Job Description:
Attorney - Electrical Engineering/Computer Engineering
The candidate should have a B.S. in Computer or Electrical Engineering and 2 to 5 years of patent prosecution and counseling experience. Some industry experience and/or an advanced degree in the computer or electrical engineering field is preferred. Candidates must have strong academic credentials, as well as superior written and verbal communication skills.
Apply
Thank You for Your Application
Your profile is created. Your email is your user name.
Please configure your password for future used.