Job Details
Legal Staff Legal Secretary in Los Angeles, CA
Brown, White & Osborn, LLP | Los Angeles, CA, United States
Industry: Legal | Type: Full-Time
Posted Date: Nov 13, 2020
Experience: 2-3 Years
Practice Areas: Criminal Law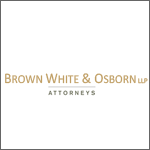 Job Description:
Paralegal and Staff Careers
The candidate will provides a positive environment with a team approach. Assist other secretaries and may assist in various administrative projects consistent with the needs of the firm. Offers a wide range of benefits, including medical, dental, and life insurance; parking; vacation; and a merit-based bonus and compensation system. Must be proficient in all clerical aspects of civil and criminal procedure and litigation. Should have 2-3 years of experience.
Apply
Thank You for Your Application
Your profile is created. Your email is your user name.
Please configure your password for future used.