Job Details
Corporate - General Attorney in Chicago, IL
McDermott Will & Emery | Chicago, IL, United States
Industry: Legal | Type: Full-Time
Posted Date: Sep 05, 2021
Experience: 4-5 Years
Practice Areas: Corporate, Corporate - General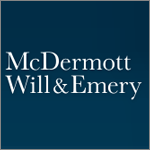 Job Description:
Staff Attorney - Corporate
The candidate should have a proven record of professional excellence and achievement with a minimum of 4 to 5 years of experience as a practising attorney in good standing. Should have experience conducting document reviews/due diligence, particularly for M&A transactions; drafting and negotiating nondisclosure agreements; preparing disclosure schedules. Experience with AI-based contract review software platforms preferred. Experience in real estate, franchise matters and/or healthcare industry desired but not essential. Demonstrated record of excellent written and verbal communication and interpersonal skills and ability to work independently or as a team member required. Experience working effectively within a deadline-driven environment is required. Must be admitted to practice in the jurisdiction to which you are applying. Should have strong project management skills, including the ability to manage multiple projects simultaneously and effectively to completion; Detail-oriented, with excellent organizational skills; Exercises good judgment; Ability to issue spot and summarize key points succinctly; Ability to be flexible and adaptive; Ability to maintain the highly confidential nature of the information; and Ability to work effectively both independently and within a team environment.
Apply
Thank You for Your Application
Your profile is created. Your email is your user name.
Please configure your password for future used.