Job Details
Litigation - General/Commercial Attorney in Rochester, NY
Disability Rights New York(DRNY) | Rochester, NY, United States
Industry: Legal | Type: Full-Time
Posted Date: Oct 06, 2021
Practice Areas: Litigation, Litigation - General/Commercial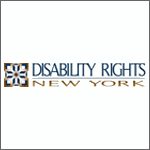 Job Description:
Staff Attorney PADD Summer 2021
The candidate will provide legal, administrative and other appropriate means of representation, including individual and systemic representation, to people with disabilities to ensure the protection of the rights of individuals with disabilities; Investigate allegations of abuse and neglect and draft investigative reports; Monitor service providers for abuse, neglect, and compliance with federal and state laws and draft monitoring reports; Analyze new and existing cases as well as other matters to determine if they present systemic issues which may be appropriate for DRNY to address, and, with the Program Director, formulate strategies for their prevention, reduction or elimination; Act in accordance with identified Priorities and Goals of the Program; Consult with professionals such as attorneys, physicians, psychologists, therapists, educators, and others to identify options and barriers for individuals and groups; Lead and support DRNY projects, project teams, and initiatives that foster self-determination and self-advocacy, and coalition building; Lead and participate on task forces, coalitions, and committees as assigned, as well as conduct training and outreach activities; Maintain accurate, confidential files; Assist in preparing reports to funding sources; Maintain accurate time records and client records, including accurate use of the client tracking database for DRNY to meet its programmatic and fiscal responsibilities, and to obtain prevailing party attorney fees when appropriate; Timely open and close case files regarding client matters; Perform related tasks consistent with skills, abilities, and general responsibilities as required to support DRNY, other duties as assigned; Travel throughout New York State and outside of New York State as necessary to perform assigned job tasks. Must be a member in good standing of the New York State Bar or eligible to waive in from another jurisdiction, or be eligible to become a member within a reasonable time after beginning employment, and maintain such standing throughout employment with DRNY. Should have demonstrated interest and commitment to public interest law. Must have excellent communication skills. Bilingual preferred. NYS Drivers license preferred. Public interest, civil rights, or disability law experience preferred. Litigation and administrative hearing experience desired. Experience working with diverse populations a plus.
Apply
Thank You for Your Application
Your profile is created. Your email is your user name.
Please configure your password for future used.