Job Details
Legal Staff Legal Secretary in Philadelphia, PA
Bardsley, Benedict + Cholden, LLP | Philadelphia, PA, United States
Industry: Legal | Type: Full-Time
Posted Date: Nov 25, 2020
Experience: 5 Years
Practice Areas: Litigation, Litigation - General/Commercial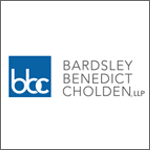 Job Description:
Legal Administrative Assistant
The candidate should have 5+ years experience and provide comprehensive support to litigation department. Will work with several attorneys and paralegals through the entire course of litigation. Must have strong communication skills, the ability to work independently and in a team environment. Ability to handle calendar management, expense reports and other administrative tasks; Ability to multi-task in a fast paced environment, handle priorities and meet deadlines needed. Excellent client service and communication skills both oral and written required. Willingness and ability to learn new skills as they become necessary. E-filing in Pennsylvania, NJ and USDC essential. Experience with document management systems and Microsoft Office/Outlook required. Transcribe dictation in a timely fashion needed. Clerical scanning/filing/file maintenance required. Handling opening and closing processes of files essential. Great location, working conditions, competitive benefits and collegial atmosphere needed.
Apply
Thank You for Your Application
Your profile is created. Your email is your user name.
Please configure your password for future used.