Job Details
Legal Staff Paralegal in Miami, FL
Roig Lawyers | Miami, FL, United States
Industry: Legal | Type: Full-Time
Posted Date: Oct 15, 2020
Experience: 3 Years
Practice Areas: Litigation, Litigation - General/Commercial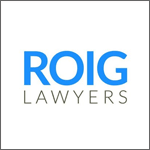 Job Description:
Commercial Litigation Legal Assistant
The candidate should have 3+ years of prior commercial litigation experience. Must have experience with both State and Federal court. Should have Litigation experience including trial preparation and support. Must have proficiency in Word as well as proof reading, typing, editing, redlining documents, and working in our case management system (Prolaw). Experience with heavy calendaring/scheduling required. Must be able to take initiative, have effective communication skills, a strong work ethic, and thrive in a fast paced litigation environment. Professionalism and stellar client customer service is required.
Apply
Thank You for Your Application
Your profile is created. Your email is your user name.
Please configure your password for future used.