Job Details
Litigation - General/Commercial Attorney in Fort Lauderdale, FL
Wicker Smith O'Hara McCoy & Ford P.A. | Fort Lauderdale, FL, United States
Industry: Legal | Type: Full-Time
Posted Date: Jan 10, 2021
Experience: 2-4 Years
Practice Areas: Litigation, Litigation - General/Commercial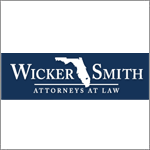 Job Description:
Associate Attorney
The candidate should have 2-4 years of experience. Must have exceptional legal research and writing skills. Should have strong and extremely meticulous organizational skills. Must have experience in Civil Litigation, including deposition. Judicial clerkship experience is welcomed. Should also possess the ability to take on significant responsibility and be team-oriented. High Academic credentials from a respected law school.
Apply
Thank You for Your Application
Your profile is created. Your email is your user name.
Please configure your password for future used.