Job Details
Corporate - General Attorney / Corporate - M&A Attorney / Corporate - Private Equity Attorney / Corporate - Securities and Capital Markets Attorney / Finance - Banking Attorney in Portland, OR
Stoel Rives LLP | Portland, OR, United States
Industry: Legal | Type: Full-Time
Posted Date: Apr 15, 2021
Experience: 1-3 Years
Practice Areas: Corporate, Finance - Banking, Finance, Corporate - M&A, Corporate - Private Equity, Corporate - Securities and Capital Markets, Corporate - General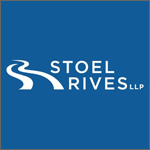 Job Description:
Junior Corporate Associate
The candidate should have 1-3 years of experience to join Corporate Practice Group. Must have law firm experience in general corporate work, M&A, securities, debt and equity financing, fund formation and securities, and other business transactions. Can expect to benefit from working with clients on mid-market and larger transactions. Attorneys in this role can expect direct client exposure, and often interface with colleagues across offices and practice groups.Will independently produce client-ready documents and will work with others on complex transactions.
Apply
Thank You for Your Application
Your profile is created. Your email is your user name.
Please configure your password for future used.