Job Details
Corporate - General Attorney / Corporate - M&A Attorney / Corporate - Securities and Capital Markets Attorney / Technology Transactions Attorney in Lyndhurst, NJ
Scarinci Hollenbeck, LLC | Lyndhurst, NJ, United States
Industry: Legal | Type: Full-Time
Posted Date: Feb 23, 2021
Experience: 2 Years
Practice Areas: Corporate, Technology Transactions, Corporate - M&A, Corporate - Securities and Capital Markets, Corporate - General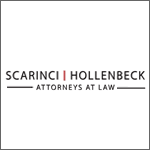 Job Description:
Business Law Attorney
The candidate must have general corporate/securities and IP/Technology experience, including drafting, negotiating and counseling clients respecting: private placements, mergers and acquisitions, commercial contracting and corporate governance documentation; commercial lending agreements; experience drafting operating agreements, stockholder agreements and similar corporate documents; and intellectual property/technology agreements. Some familiarity with data security/data privacy issues is required. Portable business of at least $350,000 is essential. Must be licensed in NJ/NY.
Apply
Thank You for Your Application
Your profile is created. Your email is your user name.
Please configure your password for future used.