Job Details
Legal Staff Paralegal in Boston, MA
Bernkopf Goodman LLP | Boston, MA, United States
Industry: Legal | Type: Full-Time
Posted Date: Oct 12, 2020
Experience: 3 Years
Practice Areas: Litigation, Contract Law, Litigation - Construction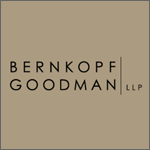 Job Description:
Litigation Legal Assistant
The candidate should have 3+ years experience in a law firm setting, a professional demeanor and approach to assignments, and be an advanced user of MS Office programs. Litigation experience in contract disputes, title insurance claims, class action, construction defect, or foreclosure is a plus.
Apply
Thank You for Your Application
Your profile is created. Your email is your user name.
Please configure your password for future used.