Job Details
Legal Staff Paralegal in Des Moines, IA
Brown, Winick, Graves, Gross, Baskerville and Schoenebaum, PLC | Des Moines, IA, United States
Industry: Legal | Type: Full-Time
Posted Date: Oct 12, 2020
Experience: 2-3 Years
Practice Areas: Litigation, Litigation - General/Commercial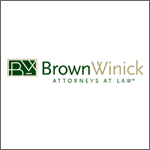 Job Description:
Litigation Legal Assistant
The candidate must have some relevant experience. Should have excellent written/oral communications and strong technical, computer, and organizational skills. Attention to detail, proofreading, formatting, proficiency in word processing (Word, Excel) and document management skills is a must. Performs a variety of legal/administrative duties for attorney(s) to whom assigned according to established policies and procedures. Maintains positive contact with clients, attorneys and staff and observes confidentiality. Associate's degree with 2-3 years of progressively responsible litigation/administrative experience is preferred. Should be proficient in MS Office programs with speed and accuracy. Should also be proficient with other office-related equipment.
Apply
Thank You for Your Application
Your profile is created. Your email is your user name.
Please configure your password for future used.