Job Details
Insurance Coverage Attorney / Insurance Defense Attorney / Litigation - Insurance Attorney in Southfield, MI
Segal McCambridge Singer & Mahoney, Ltd | Southfield, MI, United States
Industry: Legal | Type: Full-Time
Posted Date: Jul 16, 2020
Experience: 2-5 Years
Practice Areas: Insurance Coverage, Litigation, Insurance Defense, Litigation - Insurance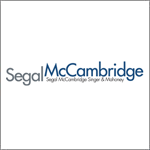 Job Description:
Associate Attorney
The candidate will be responsible for: evaluating and managing case files, researching law, preparing legal documents, investigating facts as well as attending hearings and trials. Should have 2-5 years of legal experience in insurance coverage, premises liability, auto negligence/no-fault, Michigan license, excellent research and writing skills, as well as solid oral communication skills.
Apply
Thank You for Your Application
Your profile is created. Your email is your user name.
Please configure your password for future used.