Job Details
Legal Staff Paralegal in Chicago, IL
Legal Aid Chicago (Legal Assistance Foundation) | Chicago, IL, United States
Industry: Legal | Type: Full-Time
Posted Date: Dec 02, 2021
Practice Areas: Health Care
Qualifications: Qualifications: A college degree is required (except for current internal applicants as specified in the Collective Bargaining Agreement). A background in working with low-income populations, the elderly, or people with disabilities is helpful. Spanish fluency is a plus. Basic internet and computer skills are required, including familiarity with such programs as MS Word, Outlook, and Excel. Must have excellent oral and written skills, and a commitment to social justice.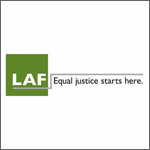 Job Description:
Nursing Home Community Ombudsman Paralegal
Responsibilities: Visit assigned long-term care facilities in suburban Cook County and/or Lake County to educate residents, family members, facility staff and the public about residents' rights and investigate and resolve complaints [Due to Covid-19, Ombudsmen are not going inside facilities currently. For the moment, the position is largely working from home]; Attend resident and family council meetings to advise on issues related to long-term care; organizes and develops family councils when necessary; Develop and maintains productive relationships with long-term care staff; Develop knowledge of relevant law and regulations including Medicaid, Medicare, and federal and state laws relating to long-term care; Complete all training as required by the Illinois Department on Aging; Assist in the recruitment, training, and retention of volunteer ombudsmen; Assist in promoting the Ombudsman Project throughout the service area; Perform intake, engage in fact gathering and advocacy; Represent clients at hearings before the Illinois Department of Human Services, Nursing Home Division in cases involving the denial or termination of Medicaid eligibility for long-term care residents; and Perform other duties reasonably related to Community Ombudsman job functions.
Apply
Thank You for Your Application
Your profile is created. Your email is your user name.
Please configure your password for future used.