Job Details
Labor & Employment Attorney / Litigation - Labor & Employment Attorney in Rochester, NY
Law Offices of Pullano & Farrow PLLC | Rochester, NY, United States
Industry: Legal | Type: Full-Time
Posted Date: Oct 19, 2021
Experience: 2-5 Years
Practice Areas: Labor & Employment, Litigation, Litigation - Labor & Employment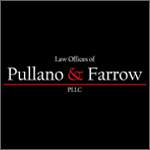 Job Description:
Labor & Employment Attorney
The candidate will be handling employment cases from client intake to securing and enforcing a judgment; more specifically, meeting with clients and potential clients, initial investigations and legal research, preparation of demand letters, participating in settlement negotiations, drafting pleadings, drafting discovery demands and discovery responses, conducting and defending depositions, preparation of motion papers, preparation and participation in mediations and/or arbitrations, preparation and participation in trials, drafting and enforcing judgments, communicating with clients and witnesses, and all other actions necessary in a labor and employment practice group. Must have 2-5 years of labor and employment practice. Must be admitted to practice law in the state of New York.
Apply
Thank You for Your Application
Your profile is created. Your email is your user name.
Please configure your password for future used.