Job Details
Environmental and Land Use Attorney / Litigation - General/Commercial Attorney in New York City, NY
Sive, Paget & Riesel, PC | New York City, NY, United States
Industry: Legal | Type: Full-Time
Posted Date: Dec 10, 2021
Experience: 2-4 Years
Practice Areas: Environmental and Land Use, Litigation, Litigation - General/Commercial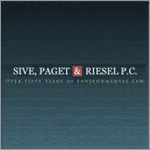 Job Description:
Seeking an Associate who has 2-4 years of experience in environmental, litigation and/or energy matters. Candidate will: Be exposed to a wide variety of assignments within practice and take on a great degree of responsibility. Participate in activities such as contributing to the Firm s blog and recruiting summer associates. Must have an excellent academic record, superior writing ability, and advanced research and analysis skills. Legal experience in environmental, litigation, and/or energy matters is required.
Apply
Thank You for Your Application
Your profile is created. Your email is your user name.
Please configure your password for future used.