Job Details
Immigration Attorney in Boston, MA
Wolfsdorf Rosenthal LLP | Boston, MA, United States
Industry: Legal | Type: Full-Time
Posted Date: Dec 02, 2021
Experience: 2-4 Years
Practice Areas: Immigration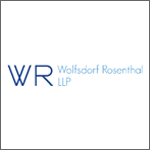 Job Description:
Business Immigration Attorney
The candidate should be a member of the Massachusetts Bar. Must have 2 to 4 years of business immigration experience, including in-depth PERM experience, as well as strong experience in a broad range of nonimmigrant categories. Excellent communication, writing, and detail-oriented skills are required. Should have a demonstrated track record of providing exceptional client service while working within a fast-paced environment.
Apply
Thank You for Your Application
Your profile is created. Your email is your user name.
Please configure your password for future used.