Job Details
Legal Staff Paralegal in Grand Rapids, MI
Mika Meyers, PLC | Grand Rapids, MI, United States
Industry: Legal | Type: Full-Time
Posted Date: Oct 14, 2020
Practice Areas: Litigation, Litigation - General/Commercial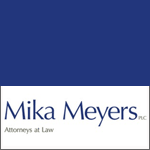 Job Description:
Litigation Legal Assistant
The candidate should have prior experience or exposure in employment and civil litigation; environmental, commercial and other litigation practice areas. Should possess proficiency in Office 365 (Word, Outlook, Excel, PowerPoint, and Adobe) and Worldox (document management program). Responsibilities include assisting attorneys and paralegal with court filings, docketing cases, and other litigation-related tasks. Typing, document preparation, and client communications. File organization, copying, scanning and other legal assistant related tasks as needed. Must have bachelor s degree from an accredited college with engaging personalities, are self-starters, strong organizational skills, excellent computer skills and the ability to work in a team structured environment.
Apply
Thank You for Your Application
Your profile is created. Your email is your user name.
Please configure your password for future used.