Job Details
Legal Staff Paralegal in Miami, FL
Black, Srebnick, Kornspan & Stumpf, PA | Miami, FL, United States
Industry: Legal | Type: Full-Time
Posted Date: Oct 26, 2020
Experience: 5 Years
Practice Areas: Litigation, Litigation - General/Commercial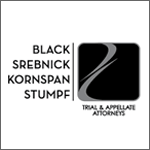 Job Description:
Seeking Civil Litigation Legal Assistant with 5+ years of recent sophisticated commercial litigation experience. The candidate must have knowledge in e-filing, Summation, calendaring, Federal and State rules of practice, and the ability to confidently manage the firm's civil litigation responsibilities is required. Must have strong attention to detail, excellent verbal and written communication skills, and have good proofreading skills. Must be a team player and have a strong work ethic and dedication to excellence.
Apply
Thank You for Your Application
Your profile is created. Your email is your user name.
Please configure your password for future used.