Job Details
Immigration Attorney in Raleigh, NC
Ogletree, Deakins, Nash, Smoak & Stewart, P.C. | Raleigh, NC, United States
Industry: Legal | Type: Full-Time
Posted Date: Jan 19, 2022
Experience: 2 Years
Practice Areas: Immigration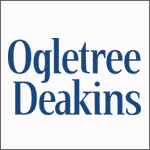 Job Description:
Business Immigration Associate
Candidate must have JD Degree. Must be and remain licensed to practice law and in good standing. During employment, must meet requirements for continuing licensure for law practice. Must have 2+ years of business immigration experience in a fast paced environment. Should possess extensive experience with PERM applications, H-1B, L-1, TN and E visas. Must possess experience in high-volume business immigration work environment. Excellent writing, organizational and research skills are required.
Apply
Thank You for Your Application
Your profile is created. Your email is your user name.
Please configure your password for future used.