Job Details
Labor & Employment Attorney / Litigation - E-Discovery Attorney / Municipal Law Attorney in Rochester, NY
Boylan Code, LLP | Rochester, NY, United States
Industry: Legal | Type: Full-Time
Posted Date: Sep 21, 2021
Experience: 1 Years
Practice Areas: Labor & Employment, Litigation, Municipal Law, Litigation - E-Discovery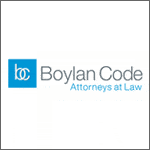 Job Description:
Litigation Attorney
The candidate must have experience with prosecution and defense on a variety of commercial civil actions, including employment and municipal matters, handling all phases of discovery (including depositions) and motion practice, and representing clients at hearings, arbitrations, trials and appeals.
Apply
Thank You for Your Application
Your profile is created. Your email is your user name.
Please configure your password for future used.