Job Details
Insurance Attorney / Litigation - Insurance Attorney in Miami, FL
Isriel Ponzoli P.A. | Miami, FL, United States
Industry: Legal | Type: Full-Time
Posted Date: May 15, 2023
Experience: 1-3 Years
Practice Areas: Litigation, Insurance Defense, Litigation - Insurance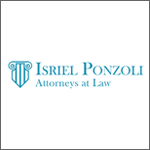 Job Description:
Associate Attorney
The candidate should have experience in litigation and insurance Defense. Must possess excellent writing skills. Quick responsibility in file handling and trial experience required. 1-3 years litigation experience required. Excellent writing skills required. Excellent academic credentials required. Must be a member of the Florida Bar.
Apply
Thank You for Your Application
Your profile is created. Your email is your user name.
Please configure your password for future used.