Job Details
Bilingual legal secretary
Friedman and Friedman, P.A. | Coral Gables, FL, United States
Industry: Legal | Type: Full-Time
Posted Date: Dec 21, 2020
Practice Areas: Litigation - Personal Injury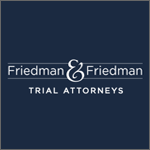 Job Description:

Bilingual experienced legal secretary
Plaintiff's personal injury firm seeks experienced, capable, motivated legal secretary. Work hours-- 9:00 am - 5:30 pm, Mon-Fri

Duties include: Preparation of lawsuits, motions, setting hearings and mediations. E-filing in State court. Candidate must be bilingual in English and Spanish. Must have strong organizational skills, typing skills and proficient in Microsoft Word.

Must be:
Courteous and professional demeanor
Solid written and verbal communication skills
Able to effectively prioritize and meet deadlines
Ability to be resourceful and proactive when issues arise
Strong work ethics
Non-smoker.

Free garage parking & health insurance
Apply
Thank You for Your Application
Your profile is created. Your email is your user name.
Please configure your password for future used.