Job Details
Contract Law Attorney / Corporate - M&A Attorney / Intellectual Property - Patent General Attorney in Baltimore, MD
Zarren Law Group, LLC. | Baltimore, MD, United States
Industry: Legal | Type: Full-Time
Posted Date: Feb 19, 2021
Practice Areas: Corporate, Intellectual Property, Contract Law, Corporate - M&A, Intellectual Property - Patent, Intellectual Property - Patent General
Qualifications: Qualifications: Highly organized and responsive. Effective communication skills. Strong legal drafting and analytical skills. Ability to work well in a team-oriented culture. Ability to manage a full workload. Strong multi-tasking skills. Computer knowledge, primarily the Microsoft office suite and some database programs.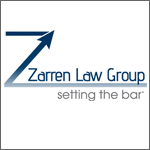 Job Description:
Business Transactional Attorney
The candidate will work closely with an entrepreneurial setting in a fast-paced entrepreneurial environment with substantial growth opportunities. Will have significant client contact, and will be working with growing practices with particular emphasis in the following industries: information technology, government contracts, healthcare, and manufacturing and distribution, among others. Will include: Drafting and negotiating a wide variety of legal documents from partnership and LLC operating agreements to governing corporate documents; from employment, independent contractor, and other services agreements, joint venture agreements, licenses and IP development agreements, to promissory notes, loan documents, and M&A/purchase and sale agreements. Providing advice to colleagues on a variety of legal projects and counseling clients on a significant number of legal matters. Working closely with team members in a collegial atmosphere to maximize value provided to clients.
Apply
Thank You for Your Application
Your profile is created. Your email is your user name.
Please configure your password for future used.