Job Details
Legal Staff Legal Secretary in Atlanta, GA
Seyfarth Shaw LLP | Atlanta, GA, United States
Industry: Legal | Type: Full-Time
Posted Date: Mar 10, 2023
Experience: 2 Years
Practice Areas: Real Estate
Qualifications: Qualifications: 2+ years of legal secretarial experience, including providing support for transactional practice groups. Prior real estate experience is preferred. Recent experience at a large, national firm. Strong proofreading skills, attention to detail and solid grammar/spelling skills. A High degree of proficiency with Microsoft programs (Word, Outlook, Excel). Legal citation and legal terminology expertise. Familiarity with Carpe Diem, Elite, iManage, Chrome River, Forte, Workshare Compare or similar technology. The ability to organize, prioritize and meet the demands off multiple attorney assignments.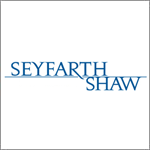 Job Description:
Real Estate Legal Secretary
Duties: Draft, input, revise and finalize, routine correspondence, memoranda and other legal documents. Draft addendums to real estate contracts; schedule and coordinate real estate closings with attorneys, lenders and title companies and brokers. Order and review title/survey and underlying title documents; prepare escrow instructions. Create and maintain closing files / organize closing binders; coordinate filings for corporate documents with clients. File legal documents in federal and state courts, including e-filing in all courts and agencies; prepare documents for service of process; prepare case shell documents for use by attorneys. Verify all attachments, exhibits and enclosures are included with transmittal letters/memos. Proofread documents and check for appropriate formatting, spelling and grammar. Maintain good public relations with clients. Review all incoming mail, distribute to teams as needed and upload to the DMS. Prepare documents and packages for mail, messenger and overnight delivery. Prepare expense reports, manage vendor invoices, mailings, and request checks as needed. Enter attorney time and send time entry reminders. Process client billing and assist with reviewing and edit of bills as necessary. Schedule an appointment and make arrangements for meetings, conferences and travel. Complete client/matter intake forms; request conflicts of interest checks; open new files and prepare files to be closed. Coordinate and follow through on requests and projects with other support departments (e.g., word processing, receptionists, file/document clerks, office services). Provide overflow and absence coverage assistance as well as secretarial support for Secretarial Team Members attorneys. Complete other duties and projects as assigned.
Apply
Thank You for Your Application
Your profile is created. Your email is your user name.
Please configure your password for future used.