Job Details
Environmental Law - Transactions & Compliance Attorney in Virginia Beach, VA
Williams Mullen. | Virginia Beach, VA, United States
Industry: Legal | Type: Full-Time
Posted Date: May 12, 2023
Practice Areas: Environmental and Land Use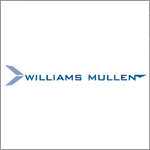 Job Description:
Environmental Attorney
The candidate should have a Bar admission in Virginia, the ability to immediately waive into the Virginia Bar, or be a member of the Bar in one or more US Jurisdictions and be willing to sit for the Virginia Bar. Significant knowledge of Environmental regulations under the Clean Air Act, Clean Water Act, CERCLA, RCRA, TSCA, EPRCA, and Brownfields redevelopment and wetlands. Experience practicing before federal and state environmental and natural resource regulatory agencies. Prior knowledge representing mining interests, developers, manufacturers, utilities, petroleum companies, and trade associations is a plus. Demonstrated ability to work effectively as part of a team while also being able to assume individual responsibility for client matters. Must have strong analytical, interpersonal, and communication skills with a drive for excellence and willingness to take initiative to solve problems.
Apply
Thank You for Your Application
Your profile is created. Your email is your user name.
Please configure your password for future used.