Job Details
Legal Staff Paralegal in Hannibal, MO
Legal Services of Eastern Missouri, Inc. | Hannibal, MO, United States
Industry: Legal | Type: Full-Time
Posted Date: Nov 23, 2022
Experience: 2 Years
Qualifications: Qualifications: The candidate should have a High school education. Should preferably have two years of college education with paralegal studies or related field. Knowledge of domestic violence is strongly preferred. Ability to work effectively in a crisis with diverse individuals. Good interpersonal, oral, and written communication skills. Must be willing to become a Missouri Notary Public. Ability to develop a positive relationship and rapport with survivors of domestic violence. Ability to work with as well as maintain positive working relationships with community partners. Must have a strong understanding of Microsoft Office Suite and be able to quickly learn new IT systems. Must take initiative, have sound judgment, excellent organization, as well as, a good work ethic, flexibility, and teamwork.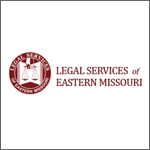 Job Description:
Paralegal
Duties: The candidate will assist, under the supervision of an attorney, survivors of domestic violence in family law cases such as divorce, custody, and orders of protections. Perform word processing tasks, including client correspondence, pleadings, and other documents. Monitor cases and conduct fact investigation, document gathering and legal research. Interact with clients to coordinate meetings, signing, paperwork and handling of routine assignments, such as court filings, through Missouri casenet e-filing. Assist Managing Attorney by serving as a liaison and building positive working relationships with community partnering agencies. Manage difficult and/or emotional situations and respond promptly to client needs. Enter and verify data in case management system. Assist with grant reporting. Open, maintain, and close files. Assist interns and volunteers when needed. Participate in community outreach and events and generate outreach materials. Assist with administrative office tasks as needed.
Apply
Thank You for Your Application
Your profile is created. Your email is your user name.
Please configure your password for future used.