Job Details
Municipal Law Litigation Attorney in Chambersburg, PA
Salzmann Hughes, P.C. | Chambersburg, PA, United States
Industry: Legal | Type: Full-Time
Posted Date: Aug 24, 2023
Experience: 1-3 Years
Practice Areas: Litigation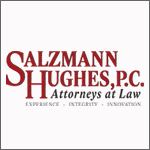 Job Description:
Associate Attorney - Municipal and Litigation Practice Group
The candidate will provide legal representation to the firm's various municipal clients related to all aspects of municipal law including land use, litigation, legislation, personnel, code enforcement, and transactional matters. Should have 1-3 years of experience. Must have excellent academic credentials, a strong work ethic, and the ability to work in a team environment. Experience in local government law, land use, and drafting legal documents as well as general litigation experience is preferred. Must have the ability to attend evening meetings. Admission to the Pennsylvania Bar is required.
Apply
Thank You for Your Application
Your profile is created. Your email is your user name.
Please configure your password for future used.