Job Details
Legal Staff Legal Secretary in Houston, TX
OBWB. | Houston, TX, United States
Industry: Legal | Type: Full-Time
Posted Date: Mar 08, 2023
Practice Areas: Intellectual Property, Intellectual Property - General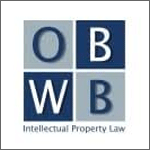 Job Description:
Intellectual Property Assistant
The candidate will be responsible for assisting patent attorneys, patent agents, and patent engineers with preparing, filing, and prosecuting patent applications and handling other intellectual property matters. Degree required. Should have strong grammar skills and a keen attention for details.
Apply
Thank You for Your Application
Your profile is created. Your email is your user name.
Please configure your password for future used.