Job Details
Tax - General Attorney / Trusts and Estates Attorney in Towson, MD
Law Offices of Friedman & Friedman, LLP | Towson, MD, United States
Industry: Legal | Type: Full-Time
Posted Date: Jan 18, 2021
Practice Areas: Tax, Trusts and Estates, Tax - General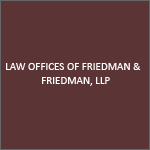 Job Description:
Business Attorney
The candidate will assist with the management of a large number of trusts, foundations and businesses as well as assist with tax return preparation. Able to work with QuickBooks or similar accounting software plus MS Office suite.
Apply
Thank You for Your Application
Your profile is created. Your email is your user name.
Please configure your password for future used.