Job Details
Legal Staff Paralegal in New York City, NY
Cravath, Swaine & Moore LLP | New York City, NY, United States
Industry: Legal | Type: Full-Time
Posted Date: Mar 09, 2023
Experience: 1 Years
Practice Areas: Corporate, ERISA/Executive Compensation, Finance - Banking, Finance, Corporate - M&A, Corporate - Securities and Capital Markets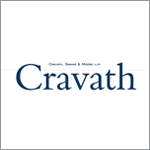 Job Description:
Corporate Paralegals
The candidates will be assigned to one of several partner groups organized around specific practice areas such as banking and credit, capital markets, environmental law, executive compensations and benefits, intellectual property, mergers and acquisitions, real estate, tax and trusts and estates. This structure allows the paralegals to learn about how a deal is put together, from the initial drafting of the agreements to the closing of the deal. Will work closely with partners, associates and clients. They are frequently asked to coordinate and attend client meetings and to travel for various assignments, providing many opportunities to establish relationships and contacts and to participate behind the scenes during negotiations. Will work directly with lawyers and independently on some projects but are also often asked to work in tandem with other teams, depending upon the needs of various matters. Such arrangements provide many opportunities to build close working relationships throughout the Firm.
Apply
Thank You for Your Application
Your profile is created. Your email is your user name.
Please configure your password for future used.