Job Details
Environmental and Land Use Attorney / Air Attorney / Climate Change Attorney / Environmental Law - Litigation Attorney / Environmental Law - Transactions & Compliance Attorney / Land Use & Zoning Attorney / Mining Law Attorney / Water Law Attorney / Envir
Harter Secrest & Emery LLP | Buffalo, NY, United States
Industry: Legal | Type: Full-Time
Posted Date: Apr 27, 2023
Experience: 1-5 Years
Practice Areas: Environmental and Land Use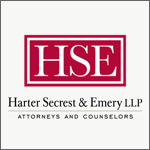 Job Description:
Environmental, Land Use, and Energy Attorney
The candidate' must have one to five years experience for an associate position in offices. The candidate should preferably have experience with the following: environmental due diligence on transactions, environmental litigation, regulatory compliance and permitting, and cleanup projects, in addition to experience with land use, SEQRA, zoning, and municipal law matters. Other areas of interest include experience with the environmental and land use aspects of energy projects, and renewable energy projects in particular. Candidates must have excellent oral and written communication skills. Enthusiasm for client service, teamwork, and initiative are essential, as is a strong interest in partnership opportunities.
Apply
Thank You for Your Application
Your profile is created. Your email is your user name.
Please configure your password for future used.