Job Details
Legal Staff Legal Secretary in Washington, DC
Squire Patton Boggs | Washington, DC, United States
Industry: Legal | Type: Full-Time
Posted Date: Dec 03, 2023
Experience: 5 Years
Practice Areas: Corporate, Corporate - General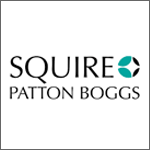 Job Description:
Executive Legal Secretary - Corporate
The candidate will assist with major corporate transactions, including Mergers & Acquisitions, SEC filings, Registration Statements and Form 10-K. Compose general correspondence, reports, memoranda, spreadsheets, expense reports, and complex documents that may require advanced work processing skills. Maintain attorney(s) appointment calendars, meetings, business trips, sensitive client matters, and prepares mailings. Enter billable time. Arrange all travel reservations and prepares all travel expense reports. Transcribe legal documents, correspondence and reports from rough draft, dictation or transcription. Open new files, request conflict of interest checks with appropriate department and maintains all client and general files. Keep files current and filing up-to-date for each client/matter. Conduct periodic review for possible storage of older files; prepares files to be closed. High school diploma or equivalent work experience is required. Should have 5+ years of corporate legal secretarial experience in a law firm or professional services environment supporting multiple professionals. Typing speed of 70+ WPM is required.
Apply
Thank You for Your Application
Your profile is created. Your email is your user name.
Please configure your password for future used.