Job Details
Insurance Coverage Attorney / Litigation - Insurance Attorney in Tampa, FL
Butler Weihmuller Katz Craig, LLP | Tampa, FL, United States
Industry: Legal | Type: Full-Time
Posted Date: Jul 22, 2020
Experience: 2-4 Years
Practice Areas: Insurance Coverage, Litigation, Litigation - Insurance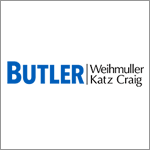 Job Description:
Third Party Coverage Defense Attorney
The candidate should preferably have 2-4 years experience in insurance defense work or judicial clerkship experience in a federal court or state appellate court. Excellent academic credentials required. Exceptional legal research and writing skills will also be considered.
Apply
Thank You for Your Application
Your profile is created. Your email is your user name.
Please configure your password for future used.