Job Details
Contract Law Attorney / Corporate - M&A Attorney / Intellectual Property - General Attorney in Irvine, CA
Enterprise Counsel Group, A Law Corporation | Irvine, CA, United States
Industry: Legal | Type: Full-Time
Posted Date: Apr 16, 2021
Experience: 5 Years
Practice Areas: Corporate, Intellectual Property, Contract Law, Corporate - M&A, Intellectual Property - General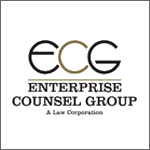 Job Description:
Transactional Attorney/ Senior Associate
The candidate should have excellent academic credentials and advanced skills in contract negotiation and drafting, enterprise formation and governance, mergers and acquisitions, dissolutions, intellectual property protection, real property acquisition, development, leasing and disposition, etc. Large law firm experience preferred. Healthcare experience a plus. Must be licensed in California. Partner with existing associates is considered.
Apply
Thank You for Your Application
Your profile is created. Your email is your user name.
Please configure your password for future used.