Job Details
Litigation - Commercial Attorney in Miami, FL
Hedin Hall LLP | Miami, FL, United States
Industry: Legal | Type: Full-Time
Posted Date: May 15, 2023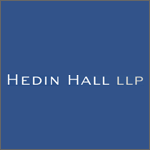 Job Description:
Associate Attorney
The candidate will be drafting and arguing substantive motions and briefs in federal district and appeals courts throughout the country, taking and defending depositions, attending mediations and other settlement conferences. Must have an interest in developing and investigating new theories for cases. Federal district court or appellate clerkship, superior writing abilities and advanced legal research skills are all required.
Apply
Thank You for Your Application
Your profile is created. Your email is your user name.
Please configure your password for future used.